The following is a brief introduction of the basic philosophy behind Disney theme park operations.
Family Entertainment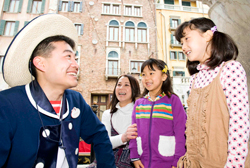 Our theme parks are worlds where people can share laughter, surprises, discovery, and enjoyment together with other people, regardless of age or background.
Walt Disney once said, "I think what I want Disneyland to be most of all is a happy place – a place where adults and children can experience together some of the wonders of life, of adventure, and feel better because of it." Walt Disney's wish to create "family entertainment" for all generations to enjoy together was realized through the original Disneyland in California, and this concept became the basis for all Disney theme parks and resorts worldwide.
Theme Show
All components of the theme parks – from the architecture to the music played in the Parks – are designed in line with the Park's themes to create the world of Disney, a world with a special atmosphere different from everyday life.
Tokyo Disneyland and Tokyo DisneySea are both enormous outdoor stages into which Guests can enter and enjoy various experiences. Everything in the Parks are designed and composed with a "theme show" concept. Employees working on the enormous stage are called Cast Members and the people visiting the Parks are Guests. Every show has a theme and story, and every Park facility and area also has a theme integrated into the greater stage. Guests use all five of their senses to experience and enjoy a fantasy world, separate from everyday life, filled with adventure, history, and the future.
The Four Keys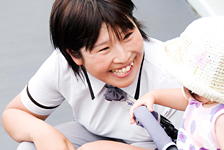 There are four standards in Disney theme Parks – Safety, Courtesy, Show and Efficiency, commonly abbreviated to SCSE, and listed in order of priority. In order to provide a high quality theme show that can be enjoyed by all, the importance of SCSE is instilled in all Cast Members.
Safety
Safety comes first. The safety of all Disney theme park facilities is ensured through technical maintenance. However, it is the responsibility of the Cast Members to successfully provide a safe and comfortable environment for Guests.
Courtesy
The second of the Four Keys is Courtesy. In addition to appropriate language and polite attitude, Cast Members treat Guests in a friendly manner. In Tokyo Disney Resort, there are Guests of all ages from various nations and they all are treated as Very Important Persons by the warm-hearted Cast Members.
Show
The third of the Four Keys is Show. The Parks are all designed and composed with a "theme show" concept. The Cast Members of Tokyo Disney Resort are part of the "show." When Cast members play their roles, they always keep in mind the idea that "every day is opening day for us."
Efficiency
The last Key is Efficiency. Although Efficiency is important, in order to provide happiness to Guests, Safety, Courtesy, and Show have precedence over Efficiency. Higher efficiency will be realized by good teamwork based on Safety, Courtesy, and Show.
Adhering to the fundamental concepts behind the Disney theme parks means that Tokyo Disney Resort will never stop growing and developing. It is a "theme show" that will never be completed.