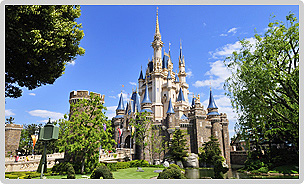 This is a world where people of all generations and backgrounds can share laughter, surprises, discoveries, and fun. Walt Disney once said of the original theme park in California, "I think what I want Disneyland to be most of all is a happy place – a place where adults and children can experience together some of the wonders of life, of adventure, and feel better because of it." These words are also the basis for Tokyo Disneyland.
The basic concept for Disneyland is "family entertainment." When it opened in California, Disneyland was a completely new type of park, completely distinct from other amusement parks designed for children. The concepts and standards set by Disney's theme parks in the U.S.A. can also be found at Tokyo Disneyland.
Classic Disney films created over the past 50 years include such popular films as Snow White and Seven Dwarfs, Pinocchio, Cinderella, and Peter Pan. These Disney Classics have delivered warmth and dreams to the hearts of millions. The Disneyland-style theme parks are designed as places where Guests can experience classic Disney films in a three-dimensional way. These stories have been developed into attractions that offer a dream-filled experience for not only Guests, but for the Cast Members as well, and this experience forms the core appeal of the Disney theme parks.
A Disney theme park is considered an enormous stage where a "show" is presented every day throughout each themed land. Because of this concept, the people who work here are called "Cast Members" and they help ensure that the Park's visitors, who are called "Guests," can enjoy the "show" to the fullest.
Tokyo Disneyland, with its iconic Cinderella Castle standing at the center of the Park, has seven themed lands, each of which is designed to a familiar, well-loved theme such as adventure, fairy tales, or the future. All of the elements of a themed land – the attractions, restaurants, shops, landscaping, benches, and even trash cans – reflect the theme of the particular land, creating a fully integrated "show."
Facts and Data
| | |
| --- | --- |
| Location | Maihama, Urayasu City, Chiba Prefecture |
| | |
| --- | --- |
| Opening date | April 15, 1983 |
| | |
| --- | --- |
| Area | 51.0 ha (theme park area) |
Major Facilities

44 Attractions, 47 Merchandise Facilities, 55 Food Facilities

(As Of Mar. 31, 2021)
| | |
| --- | --- |
| Total Operating Expenses | Approximately 180 billion yen |
| | |
| --- | --- |
| Parking Area | About 18,000 parking spaces (including Tokyo DisneySea Guest Parking and other Resort parking areas) |