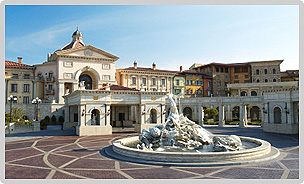 Tokyo DisneySea Hotel MiraCosta is a hotel themed seamlessly to the Tokyo DisneySea Park and provides unique and refined services.
Themed to old-world Italy, Tokyo DisneySea Hotel MiraCosta has an elegant atmosphere and is located at the entrance of Tokyo DisneySea. The hotel's name, "MiraCosta" is Italian for "view of the coast." In keeping with its name, many of the hotel's 502 rooms provide Guests with impressive views of the Park and the waters of Tokyo Bay beyond the Park's boundaries. The Guests staying in this hotel can enter Tokyo DisneySea from the special entrance provided for the hotel's Guests. For those staying in the Speciale Rooms and Suites, special services are available to make their hotel experience more comfortable, such as check-in procedures in the comfortable atmosphere of a special lounge, and more.
Other services provided at Tokyo DisneySea Hotel MiraCosta include a cozy shop full of Disney items, a Mediterranean cuisine restaurant, and a Cantonese cuisine restaurant.
The special wedding program, "Disney's Fairy Tale Weddings" provides dream-like weddings held in a romantic location where the Guests can enjoy a view of the Park.
Tokyo DisneySea Hotel MiraCosta is where Guests can continue to enjoy the world of adventure and romance of Tokyo DisneySea in their hotel room.
Facts and Data
| | |
| --- | --- |
| Name | Tokyo DisneySea Hotel MiraCosta |
| | |
| --- | --- |
| Location | 1-13 Maihama, Urayasu City, Chiba Prefecture (located in Tokyo DisneySea) |
Management

Owner: Oriental Land Co., Ltd. (land and buildings)
Operator: Milial Resort Hotels Co., Ltd. (wholly owned subsidiary of Oriental Land Co., Ltd.)
| | |
| --- | --- |
| Opening date | September 4, 2001 |
| | |
| --- | --- |
| Structure | 5 floors above ground (part of 1st floor connects with the Park) |
| | |
| --- | --- |
| Floor Space | About 46,000m² |
| | |
| --- | --- |
| Banquet Halls | 5 (1 large hall and 4 medium size halls) |
| | |
| --- | --- |
| Dining Facilities | 4 (2 table service restaurants, 1 lobby lounge, 1 poolside bar) |
| | |
| --- | --- |
| Other Facilities | A chapel and other wedding facilities and a Disney shop |
| | |
| --- | --- |
| Total Operating Expenses | Approximately 335 billion yen (including that of Tokyo DisneySea) |