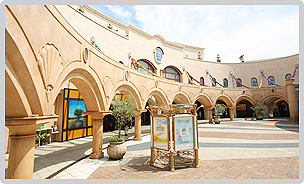 Ikspiari, a "town" filled with stories and entertainment, opened on July 7, 2000. This shopping and entertainment complex includes numerous shops and restaurants, as well as a state-of-the-art cinema complex. Guests can also enjoy strolling around the unique atmosphere.
Oriental Land Co., Ltd. and its wholly owned subsidiary, IKSPIARI Co., Ltd. undertook the concept development, construction work, and operation of this multi-faceted commercial complex.
The overall design concept for Ikspiari is based on mythology and history. This concept is reflected in the various designs for the shops, restaurants, and other facilities in Ikspiari, creating the unique atmosphere of this "town."
There are nine zones each with a distinct theme. There are over 140 shops and restaurants in Ikspiari, some of which are directly managed by Ikspiari and others by the tenants.
Within Ikspiari is a cinema complex. With 16 screens and 3,152 seats, it is one of the largest cinema complexes in Japan. This facility is constructed with the audience in mind – wide screens stretch from wall to wall in each theater, stadium-style seating permits an unobstructed view from every seat, and a digital sound system assures cutting-edge fidelity.
"Ikspiari" is a word coined from "experience" and "peri," the name of a good, warm- hearted fairy of Persian myth.
Facts and Data
| | |
| --- | --- |
| Location | 1-4 Maihama, Urayasu City, Chiba Prefecture (adjacent to JR Keiyo Line's Maihama Station) |
Management

Owner: Oriental Land Co., Ltd. (land and buildings)
Operator: Ikspiari Co., Ltd. (wholly owned subsidiary of Oriental Land Co., Ltd.)
| | |
| --- | --- |
| Opening date | July 7, 2000 |
| | |
| --- | --- |
| Structure | 4 floors above ground, 1 basement |
| | |
| --- | --- |
| Floor Space | About 117,000m² |
| | |
| --- | --- |
| Major Facilities | About 140 shops and restaurants, a cinema complex with 16 screens with about 3,152 seats |
| | |
| --- | --- |
| Parking area | 1,800 parking spaces (shared with Disney Ambassador Hotel) |
| | |
| --- | --- |
| Total Operating Expenses | Approximately 65 billion yen (including that of Disney Ambassador Hotel) |