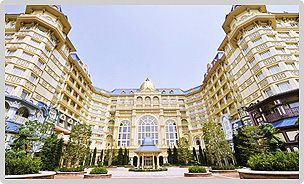 Tokyo Disneyland Hotel, the largest of the three Disney Hotels in Tokyo Disney Resort, opened July 8, 2008 during the Tokyo Disney Resort 25th Anniversary year.
Tokyo Disneyland Hotel stands in front of the Disney Resort Line's Tokyo Disneyland Station at the main entrance of Tokyo Disneyland Park. Because of its location, the hotel serves as the "front door" to the Resort, welcoming Guests with its grand and luxurious Victorian design. The hotel design blends with the architecture of World Bazaar, which is the first themed land Guests see upon entering Tokyo Disneyland Park.
Victorian-style hotels are found at several Disney Resorts, with the first one built at Walt Disney World Resort in Florida. This architectural style was chosen because Walt Disney, who was born near the end of the Victorian era, championed the values and ideals of that time throughout his life. This heritage continues with Tokyo Disneyland Hotel.
The 705 guest rooms at Tokyo Disneyland Hotel feature Mickey Mouse and other Disney character motifs in its designs. A select number of rooms are themed to Disney classic films such as Peter Pan, Alice in Wonderland, Snow White and the Seven Dwarfs, and Cinderella. More than half of the guest rooms have an alcove with a built-in additional bed.
The hotel also has three unique restaurants and a lobby lounge, as well as four banquet rooms of different sizes to cater to various needs. And there is also a beauty salon for children. All of these facilities provide a comfortable and memorable stay for the Guests.
Tokyo Disneyland Hotel will provide a dreamlike experience for Guests who wish to be immersed in the world of Disney during their entire stay at the Resort.
Facts and Data
| | |
| --- | --- |
| Name | Tokyo Disneyland Hotel |
| | |
| --- | --- |
| Location | 29-1 Maihama, Urayasu City, Chiba Prefecture |
Management

Owner: Oriental Land Co., Ltd. (land and buildings)

Operator: Milial Resort Hotels Co., Ltd. (wholly owned subsidiary of Oriental Land Co., Ltd.)
| | |
| --- | --- |
| Opening date | July 8, 2008 |
| | |
| --- | --- |
| Structure | 9 floors above ground |
| | |
| --- | --- |
| Floor Space | About 89,000㎡ |
| | |
| --- | --- |
| Banquet Halls | 4 (1 large hall and 3 small halls) |
| | |
| --- | --- |
| Dining Facilities | 3 (2 table service restaurants, 1 lobby lounge) |
| | |
| --- | --- |
| Major Facilities | A Disney shop, a beauty salon |
| | |
| --- | --- |
| Total Operating Expenses | Approximately 35 billion yen |