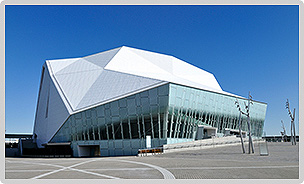 As its name suggests, "Maihama Amphitheater" located in Tokyo Disney Resort is a multipurpose hall that consists of a semicircular open stage and a seating area of 2,170 seats that surround the stage.
The greatest feature of this "Amphitheater" is that its apron stage and the seating around it create a space of dynamic sensation. It is complete with stage equipment for enhanced show performances, which may be used for various purposes such as company events, ceremonies, and music concerts. The stage is viewable from anywhere in the area of 2,170 seats arranged with enough space between rows, allowing audience to view the event comfortably over light meals or drinks.
As a source of the latest entertainment and information, "Maihama Amphitheater" will add to impressive experiences provided by the Resort.
*Amphitheater: A theater with seating that is arranged in sloping tiers around a semicircular open stage.
Overview of the facility
| | |
| --- | --- |
| Name | Maihama Amphitheater |
| | |
| --- | --- |
| Location | 2-50 Maihama, Urayasu City, Chiba Prefecture, zip code 279-8512 |
| | |
| --- | --- |
| Management | Owner & Operator: Oriental Land Co., Ltd. |
| | |
| --- | --- |
| Opening date | September 1, 2012 |
| | |
| --- | --- |
| Structure | 7 floors above ground |
| | |
| --- | --- |
| Floor space | About 14,000㎡ |
Parking area

About 1,800 parking spaces
(shared with Disney Ambassador Hotel and Ikspiari)