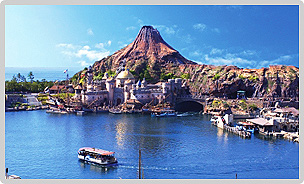 Tokyo DisneySea Park is themed to the myths and stories of the sea, all in the grand tradition of Disney-style family entertainment.
This Park is located next to Tokyo Disneyland and faces Tokyo Bay. It is designed as a world filled with adventure, romantic stories, discovery, and fun, where adventure and imagination set sail.
There are seven themed ports of call composed of high quality attractions, gorgeous live entertainment programs, delicious food, and great shopping. Tokyo DisneySea is a world where Guests can experience adventure and excitement inside a world of romance and imagination.
Tokyo DisneySea Guests can also meet Disney characters such as Aladdin and Ariel, as well as the world-famous Disney stars Mickey Mouse, Minnie Mouse, and Donald Duck.
Another Tokyo DisneySea draw is the Tokyo DisneySea Hotel MiraCosta, which is integrated into the Park. This hotel is designed and themed specifically to provide a high quality, sophisticated hotel experience. It is located at the entrance of the Park, and Guests staying in the hotel can enjoy a view of Tokyo DisneySea as well as Tokyo Bay from certain rooms. This hotel allows Guests to continue their Tokyo DisneySea experience right in the hotel rooms they stay in.
These two Parks maintain the basic Disney theme park concept of "family entertainment," while constantly being enhanced and renewed. As Walt Disney said, the Disney Parks will never be completed. Tokyo Disneyland and Tokyo DisneySea will continue to develop new experiences for Guests.
Facts and Data
| | |
| --- | --- |
| Location | Maihama, Urayasu City, Chiba Prefecture |
| | |
| --- | --- |
| Opening date | September 4, 2001 |
| | |
| --- | --- |
| Area | 49.0 ha (theme park area) |
Major Facilities

35 Attractions, 39 Merchandise Facilities, 41 Food Facilities

(As Of Mar. 31, 2021)
| | |
| --- | --- |
| Total Operating Expenses | Approximately 335 billion Yen (Including Tokyo DisneySea Hotel MiraCosta construction cost) |
| | |
| --- | --- |
| Parking Area | About 18,000 parking spaces (including Tokyo Disneyland Guest Parking and other Resort parking areas) |