We act with safety as our top priority.

Safety comes first in all actions we take to create happiness for Guests visiting our Theme Parks.

In order to achieve the goal of Tokyo Disney Resort Cast Members, "We Create Happiness," all TDR Cast Members make decisions and act based on the Five Keys, the code of conduct shared among all Disney Theme Parks.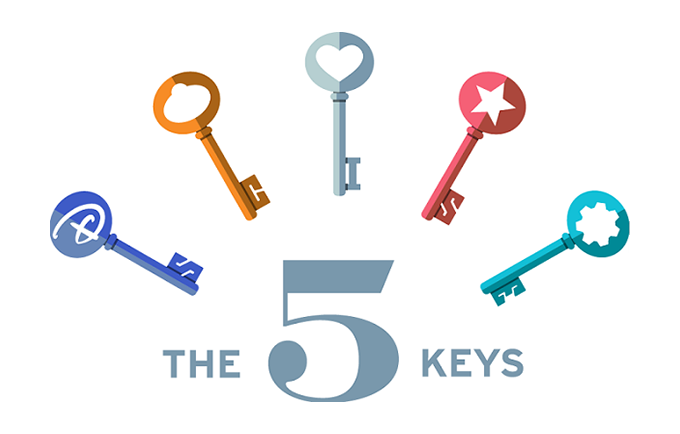 The Five Keys—Safety, Courtesy, Inclusion, Show and Efficiency—serve as the basis on which all Cast Members make decisions to provide the greatest hospitality to Guests.
The Five Keys are also the most valued standard for Oriental Land Co., Ltd. in operating Tokyo Disneyland and Tokyo DisneySea under license from Disney Enterprises, Inc.
[ Safety ]
In order to create a safe and relaxing place, the safety of Guests and Cast comes before anything else.
[ Courtesy ]
Based on the belief that Guests should be treated like VIPs, we also aspire to offer friendly, genuine hospitality; not just being polite, but providing service from the standpoint of the Guests.
[ Inclusion ]
Welcoming and respecting different viewpoints and people. Placed at the heart of all the Keys, it is deeply connected to any of the other Four Keys.
[ Show ]
Cast Members are part of the show and should treat every day as opening day, approaching every task as part of a themed show, even when they are inspecting or cleaning the facilities.
[ Efficiency ]
Focusing on safety, courtesy and the show will, along with teamwork, help us achieve greater efficiency.
A Cast Member remains standing when cleaning up for Guest safety.
Cast Members place Safety as top priority.
For example, one of the jobs of Custodial Cast Members is to mop up spilled drinks. They do this standing up rather than squatting, using their feet to mop up spilled liquids. This is to prevent accidents, since Guests caught up in the magic of the environment may not see the Cast Member if he/she were crouching down. Mopping up with feet may seem unmannerly, but this is intentional as they put Safety before Courtesy or Show.
Ensuring Guest safety is a priority in everyday tasks, and it guides the actions of all Cast Members.