With a large number of Guests visiting our Theme Parks every day, the Tokyo Disney Resort is much like a big city.
The OLC Group promotes waste reduction and recycling programs and is making aggressive efforts to reduce our impact on the environment.
Our Group has been taking actions to reduce waste, and has set the following targets in order to contribute to "Recycling-oriented society," our ESG materiality. We will also continue to work on saving resources by reducing the amount of waste, rigorously enforcing the proper separation of different types of waste, and promoting recycling.
Key Goal
Indicator (KGI)
Quantitative target /
Qualitative target
KGI
Quantitative target /
Qualitative target
Target year
(FY)
Waste reduction target
[weight]
10% reduction
(vs. FY 2016 levels)
Food loss reduction
target
50% reduction
(vs. FY 2019 levels)
2030
Single use plastics
reduction target
25% reduction
(vs. FY 2018 levels)
Percentage recycled
[actual result]
80%
(vs. FY2018 levels)
Resource saving
target on products
and services
7.8% reduction
(vs. FY 2018 levels)
We promoted initiatives to reduce daily combustible waste by 3% from the FY 2015 level to 110 g per Guest by FY 2020, which was the FY 2020 medium-term target.
*Increased as a result of waste collection/sorting employees discontinuing sorting work that involves opening garbage bags for their own safety and due to the growing quantity of disinfectant and cleaning materials(FY2020).
The OLC Group undertakes environmental activities in line with Our Environmental Policy.
Our Group has established an Environmental Action Committee chaired by the Supervisor of the Corporate Strategy Planning Division (Executive Director and Executive Vice President Officer). The committee is responsible for planning and setting targets for the Company's environmental activities including climate change. Established under the Environmental Action Committee, the Subcommittee on Resource Recycling works to share our waste management policy across our Group and strengthen collaboration to conduct fact-finding surveys, devise strategies for addressing environmental issues, and implement initiatives to reduce environmental impact.
The waste generated at the Tokyo Disney Resort is carefully sorted by Cast Members in accordance with detailed sorting criteria in order to recycle as much of our waste as possible.

We recycle a wide range of resources including cardboard boxes, kitchen waste, plants, edible oils, plastic bottles, plastic wrapping materials, other plastic waste, copy paper, newspapers and magazines, paper cups, paper packages, empty cans, empty bottles, metal and wooden chips. These are sent to specialized facilities for recycling.
Also, all of the cardboards that are used for delivering the products and plastic bottles are recycled.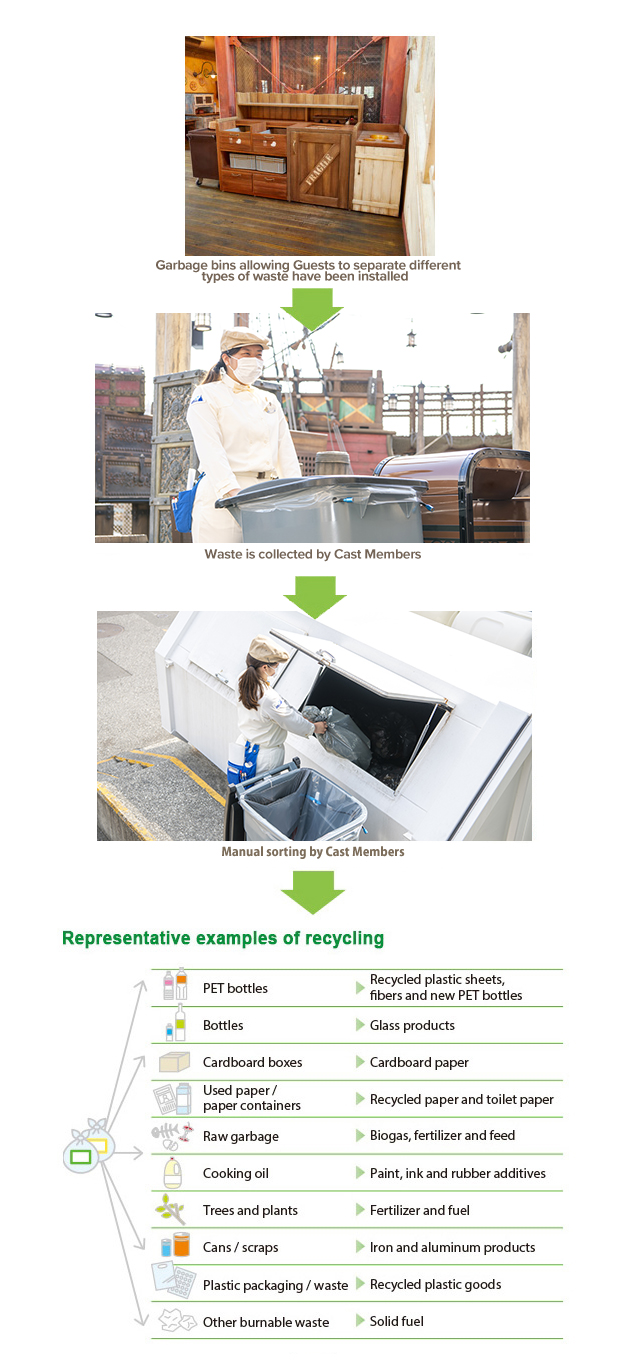 In FY 2002, when Tokyo DisneySea was first open for the entire year, the recycling rate fell short of 50 percent; by contrast, the rate across the entire Tokyo Disney Resort reached 70 percent level in these several years as a result of the initiatives above. We recycle virtually all of the kitchen waste generated in our Theme Parks.
| | | | |
| --- | --- | --- | --- |
| FY 2017 | FY 2018 | FY 2019 | FY 2020 |
| 75% | 75% | 74% | 73% |
| Initiative example | Outline |
| --- | --- |
Donations to Food Banks

Pre-gelatinized rice stored for disaster response along with other unexpired food and still-usable tableware are donated to food banks, mainly a certified NPO called Second Harvest Japan*.

*The largest food bank in Japan. Based on the principle of "food for everyone," it conducts a wide range of support activities including providing support for disaster-stricken areas, welfare facilities, the economically disadvantaged, and single mothers
Recycling Loop

Tokyo Disney Resort

Roughly 30% of the toilet paper used at some of our facilities is made from recycled paper cups collected at our Theme Parks.
Conserving toilet paper

Tokyo Disney Resort

Signage asking Guests to finish one roll of toilet paper before using the other is installed.
(Tokyo Disneyland Hotel, Tokyo DisneySea Hotel MiraCosta, Disney Ambassador Hotel)
Initiatives to reduce the amount of plastic packaging used

We replaced plastic straws provided at restaurants at our Theme Parks and Disney hotels* with paper straws, and have also begun using paper cups instead of plastic cups to serve beer at our Theme Parks in line with our goal to reduce the use of plastic
*Tokyo Disney Celebration Hotel, Disney Ambassodor Hotel, Tokyo Disney Sea Hotel MiraCosta, Tokyo Disneyland Hotel, Tokyo Disney Resort Toy Story Hotel
Switch to recyclable packaging

By switching from plastic to paper beer cups at our Theme Parks, we aim to contribute to a reduction in the use of plastic as well as boost the ratio of recyclable paper cups being used


Note that at some facilities, paper cups collected at our Theme Parks are being used as raw material for toilet paper (around 30%)
| | |
| --- | --- |
| Promoting the use of paper packaging made from recycled materials | We enacted the Guidelines on Paper Procurement and are requesting that our suppliers basically use recycled paper in paper packaging |
Data on environmental performances of FY2020.