The OLC Group has established our Environmental Policy that sets forth guidelines for action and our philosophy governing our Group's environmental activities. This policy was approved by the Board of Directors. Our group will clarify the roles and responsibilities for implementation of environmental management policy and commit to continuously improve our environmental performances.
Environmental Philosophy
Bringing "Happiness" to future generations
We seek to work in harmony with the environment and society and pursue the sustainability of both through all our businesses in order to continue to offer wonderful dreams, moving experiences, delight and contentment well into the future and pass down a healthier Earth and business to the next generation.

The OLC Group Environmental Action Policy
Our Group will make every effort to address global warming, conserve energy, reduce and recycle waste, use water resources efficiently, consider biodiversity, prevent pollution, and engage in green purchasing in all aspects of its business operations.
*We will also collaborate with the supply chain and various stakeholders in an effort to resolve environmental issues.
Our Group will comply with all statutory regulations and internal standards related to the environment.
Our Group will establish, implement and review environmental objectives and targets on a regular basis.
Our Group will offer education and training to all our employees so that they understand and are capable of acting independently in line with our Environmental Policy.
Our Group will appropriately disclose information to stakeholders and strive to engage in good communication with them.
With regard to environmental activities, we have set our ESG materiality as "Measures to address climate change and natural disasters" and "Recycling-oriented society."
Our Group has set the following targets for "Measures to address climate change and natural disasters," our ESG materiality.
Key Goal
Indicator (KGI)
Quantitative target /
Qualitative target
Target year(FY)
Greenhouse gas
emissions*
51% reduction (vs. FY 2013 levels)
2030
Net zero
2050
*Greenhouse gas emissions include Scope1 and Scoope2
Our Group has been taking actions to reduce waste, and has set the following targets to contribute to "Recycling-oriented society," our ESG materiality.
Key Goal
Indicator (KGI)
Quantitative target /
Qualitative target
Indicator
Quantitative target /
Qualitative target
Target year
(FY)
Waste reduction target
[weight]

10% reduction
(vs. FY 2016 levels)
Food loss reduction target
50% reduction (vs. FY 2019 levels)
2030
(vs. FY 2018 levels)
Single use plastics reduction target
25% reduction (vs. FY 2018 levels)
Percentage recycled [actual result]
80%
(vs. FY 2018 levels)
Resource saving target on products and services
7.8% reduction (vs. FY 2018 levels)
Our Group endeavors to identify the diverse risks and opportunities stemming from environmental issues. Advancing climate change is expected to exacerbate natural disasters, including raising temperatures and sea levels and causing serious typhoons and floods. Such events may affect the business of our Group in different ways. Meanwhile, if we can address these issues appropriately, we believe that we can strengthen our competitiveness and gain new business opportunities. Based on this belief, we have categorized the risks and opportunities related to climate change. Having endorsed the Task Force on Climate-Related Financial Disclosures (TCFD) in April 2022, our Group proceeds with the disclosure of information on the risks and opportunities related to climate change and their analyses.
Reference scenarios
Physical risks:RCP1.9,RCP2.6,RCP8.5
Transition risks:IEA B2DS,IEA 2DS,IEA SDS,IEA STEPS (previously IEA NPS)

Our Group established the "OLC Group Procurement Policy" that includes provisions for environmental considerations to be taken into account throughout our entire supply chain in May 2022. Also, our Group has the "OLC Group Vendors Code of Conduct" in place for our suppliers. To encourage our suppliers to advance their measures for environmental protection, the Code of Conduct prescribes our efforts to reduce all kinds of environmental impact, as well as to comply with laws, regulations and other standards, for the purpose of preventing global warming and environmental contamination as well as giving consideration to biodiversity.
Furthermore, as part of our efforts aimed at reducing impact to ecosystems in the course of procurement, we have in place the Guidelines on the Procurement of Paper, and notify its content to our major suppliers. The guidelines require that illegal or excessive deforestation is avoided and recommend using paper made 100% of recycled paper in the office. Also, we annually investigate the status of provision of the guideline to our major suppliers.
Our Group has a committee in place to promote environmental initiatives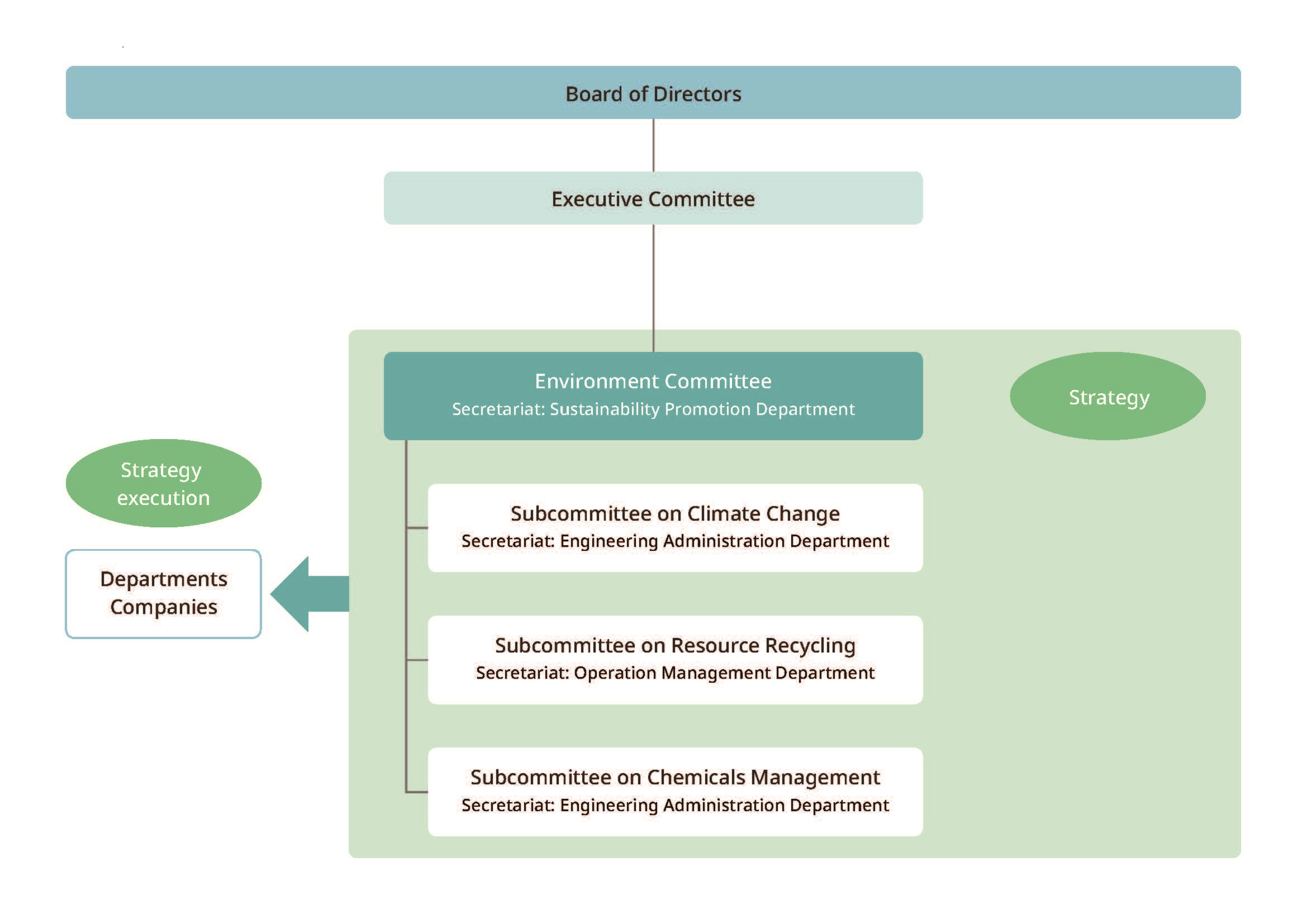 Our Group has established an Environmental Action Committee chaired by the Supervisor of the Corporate Strategy Planning Division (Executive Director and Executive Vice President Officer). The committee is responsible for planning and setting targets for the Company's environmental activities including against climate change, and is comprised of 3 subcommittees*. These subcommittees conduct fact-finding surveys, devise strategies for addressing environmental issues, and implement initiatives to reduce environmental impact.
Since FY 2010, the Chairperson of the Environmental Action Committee has been appointed to supervise our energy management pursuant to the Amended Act on the Rational Use of Energy with the goal of systematically performing the proactive conservation of energy. Through Environmental Action Committee, targets and plans regarding environment actions are reported to the Board of Directors annually as well as when significant environmental issues come up. Approved by the Board of Directors, "Climate change and natural disasters" and "Circular economy" will be our focus area on environmental actions until 2030. We will establish plans of mitigations and adoptions to the climate change, while incorporating it to the business strategy.
*Subcommittee on Climate Change, Subcommittee on Chemicals Management, and Subcommittee on Resource Recycling (as of September 2021).
Since FY 2015, our Group has been conducting internal environmental audit with specific topics each year. In FY 2020, "drainage management" was audited.
Our Group ensures that information on environmental laws and regulations is shared across our Group by using a checklist, and keeps track of legal revisions with support from relevant external service providers.
In FY 2020, we experienced neither serious accidents concerning the environment nor payment of environmental penalties.
Our Group engages in a variety of efforts to raise employee awareness of the importance of environmental conservation, including producing and showing a video to introduce our environmental activities, offering e-learning programs, publishing an environmental series in our in-house newsletter and hosting environmental-themed events.
Data on environmental performances of FY 2020.