A message to shareholders and investors from Kenji Yoshida, Representative Director, President and COO of Oriental Land Co., Ltd.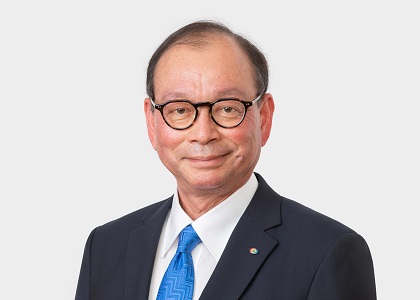 Kenji Yoshida, President and COO
| | |
| --- | --- |
| April 1984 | Joined Oriental Land Co., Ltd. |
| | |
| --- | --- |
| July 2006 | Director of Food Purchase Department, Food Division |
| | |
| --- | --- |
| January 2010 | Director of Finance/Accounting Department |
| | |
| --- | --- |
| April 2015 | Officer, Director of Finance/Accounting Department |
| | |
| --- | --- |
| April 2017 | Officer, Director of Food Division |
| | |
| --- | --- |
| April 2019 | Executive Officer, Director of Food Division |
| | |
| --- | --- |
| April 2020 | Executive Officer, Director of Food Division, Director of Theme Port No. 8 Enhancement Division |
| | |
| --- | --- |
| July 2021 | Representative Director, President and COO (currently) |
To Shareholders and Investors
I wish to extend my heartfelt sympathies to the people who have been infected with COVID-19 and those whose daily lives have been affected by the spreading infection. I sincerely pray for their speedy recovery and the earliest possible containment of the pandemic.

In the fiscal year ended March 31, 2021, we operated our resort in line with guidelines, giving top priority to the safety and security of Guests and Cast Members due to the COVID-19 pandemic. While placing limits on Park operations, we introduced measures that contributed to enhancing both Guests' experience value and net sales, including offering an expanded choice of items available via our Tokyo Disney Resort app shopping service and introducing variable pricing for tickets. Moreover, the Tokyo Disneyland Large-Scale Development area opened on September 28, 2020 and proved hugely popular with Guests.

On June 29, 2021, the baton of leadership was passed to me by Kyoichiro Uenishi, creating in me a strong sense of mission. Although the outlook of our business remains unclear, I will continue striving for a recovery in our performance and a return to the black. As our next step, we will open Fantasy Springs, a new area under development at Tokyo DisneySea, and enable the OLC Group to seek new sources of growth. Notwithstanding our challenging circumstances in which the external environment remains opaque, I will endeavor to enhance the attractions of our resort in its entirety and seek to increase profits.

The COVID-19 pandemic has triggered drastic changes in society, bringing transformations in people's values and behavior. Under such circumstances, I recognize that my role is to capture the changes of the times and steer speedy and flexible reforms. Since its initial success in attracting Disneyland to Japan at a time when nobody in the country knew about the theme park, Oriental Land has enhanced its corporate value by continuing to provide happiness to Guests. In this new age, I will continue to keep up the courage and efforts of our predecessors and take on challenges to create new value without being bound by precedents toward the goal of achieving long-term sustainable growth.

I hereby promise you that I will make all-out unified efforts with our directors, officers and all of my other colleagues to navigate the management of the OLC Group so that we can continue making people happy under the corporate mission of delivering wonderful dreams, moving experiences, happiness and contentment. I will also listen to the stock market to build a relationship of trust and mutual understanding with you and practice dialogue-oriented management.

We ask for your continued support for the OLC Group.

Kenji Yoshida
Representative Director,
President and COO