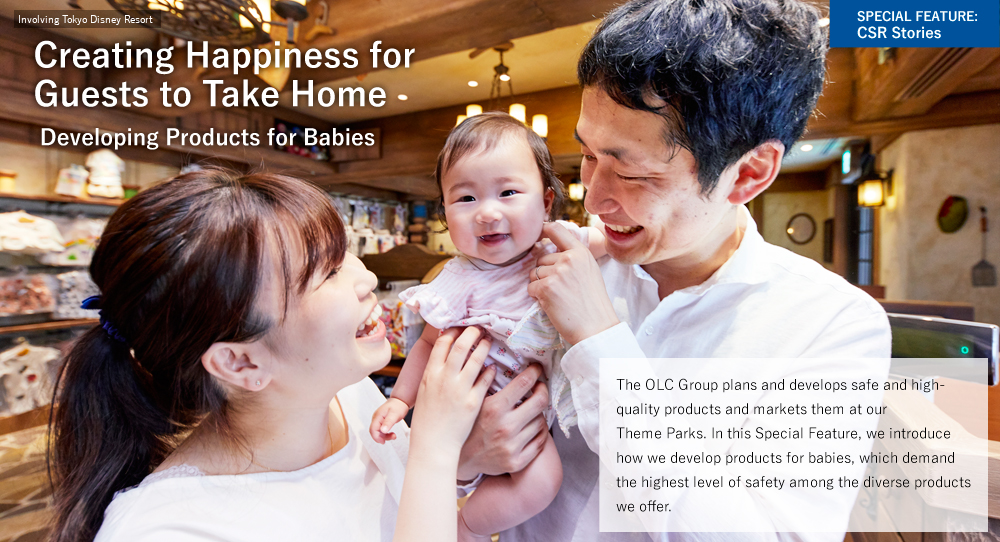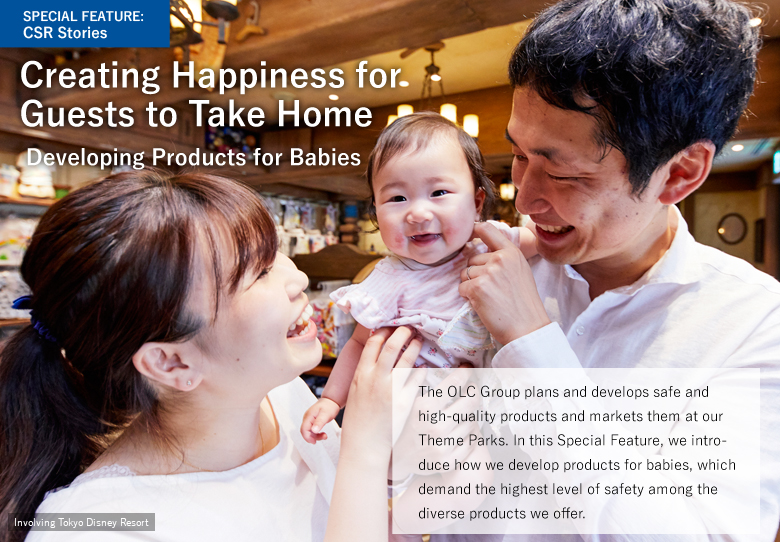 START

①Analysis/Planning
In developing our products, we first determine what to develop as well as the suppliers and manufacturers. We audit our suppliers based on stringent standards set by Disney and Oriental Land.

Stringent quality control begins at the conception stage
Right from the initial concept stage, we rigorously check the proposal for any safety and quality issues to eliminate any elements that may adversely impact our Guests' happy and memorable experiences. When the potential development items have been decided, we select our suppliers based on the ILS program* as well as through factory examinations conducted in line with our proprietary quality control regulations. The factory environment and production lines of our selected suppliers are continuously monitored on-site, whether in Japan or overseas.
* Disney's International Labor Standards program

Initial planning meeting (Conception)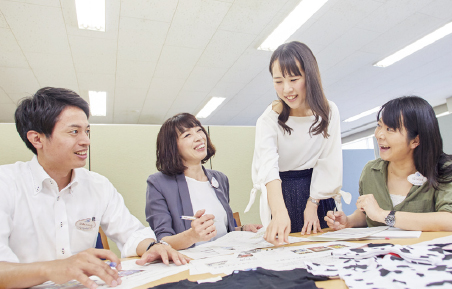 Based on a review of merchandise sold in the past and market analysis, we share ideas on new products, decide on our development policies and product concepts, create rough designs, and develop reference samples.
13 months prior to product release

Plan sharing meeting (Approval)
The product development policies are discussed with the director of Merchandise Division and the director of Merchandise Product Development Department for approval.
11 months prior to product release

Development items determined
10 months prior to product release

Design concepts approved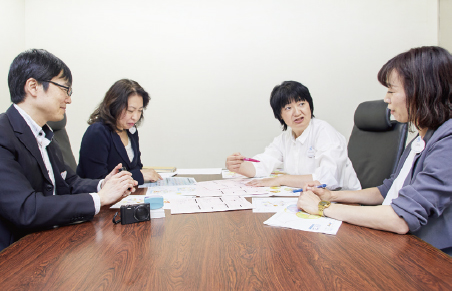 The ideas behind the rough designs and samples for each candidate item are communicated to Disney and our Merchandise Design Group for approval of the final design concept.
8 months prior to product release

②Development
In line with the development concept finalized by the developers, the product design is drawn up. While our products aim to embody the essence of our
Theme Parks, they must also be rigorously checked so that they fulfill safety and statutory requirements in terms of product design, package and labeling.

Checking prototype to protect babies
The quality control perspective is indispensable even at the prototype stage. We thoroughly check product specifications by presuming actual usage conditions. For example, we assess the safety of the positions and lengths of strings and ribbons, their compliance with the Japanese Industrial Standards (JIS), the product's color fastness, whether any parts come off easily, and whether there are any corners or sharp edges that may hurt users.

Production of original drawings commenced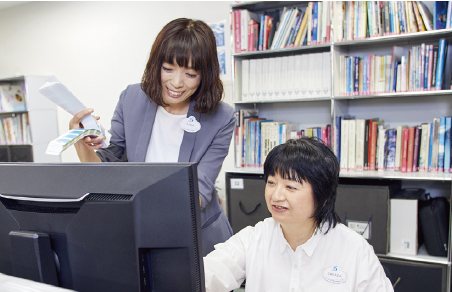 In view of the product concept, the designer assigns a suitable illustrator and provides detailed directions on colors and touches to produce original drawings. The quality control staff check intellectual property rights issues and propose a precautionary statement.
7.5 months prior to product release

Design data submitted
Design data are submitted to the supplier.
6 months prior to product release

Prototype checked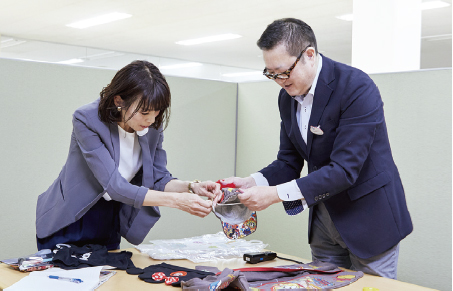 The prototype is received from the supplier and checked by the designer and quality control sections.
5.5 months prior to product release

Package design and product labels prepared
The designer oversees the package design, while the quality control staff supervise the product representation, which should conform to the Act against Unjustifiable Premiums and Misleading Representations, instructions presuming how the product will be used, and precautionary statement.

Final prototype
The supplier, developers and quality control staff check the specifications of the final prototype, which are identical to those of the product to be sold. Checkpoints in production and inspection are reaffirmed and agreed upon.
4.5 months prior to product release

③Production/Quality Control
The quality of our products is rigorously checked over and over again at every step: the prototype stage, when starting production, before shipment,
and prior to delivery. Ongoing inspections by third parties are also performed annually after products are released on the market.

Pre-launch and annual quality checks by third-party expert organizations
Examinations and inspections are performed by third parties on approximately 1,000 SKUs* a year to check color fastness (durability against friction, sweat and washing), composition (whether materials used are as described), statutory representations (whether in compliance with the Act against Unjustifiable Premiums and Misleading Representations), and other factors. Notably, our selfimposed formaldehyde limit is set at 0.03 abs in products for babies (up to 24 months old), which is more stringent than the statutory limit of 0.05 abs.
* A Stock Keeping Unit (SKU) is an identification code assigned to each product for inventory management. Different SKUs are allotted to the same products if they differ in color or size.

Production commenced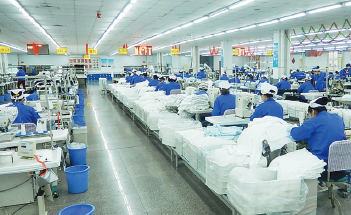 Production is commenced at the commissioned factory, which has passed an audit under the ILS program and OLC's examination. The developers and quality control staff check the production status on-site.
4 months prior to product release

Product examination/pre-shipment inspection by third parties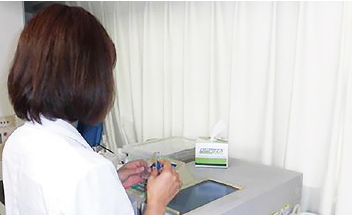 Product examination and pre-shipment inspection are performed by third-party organizations. When cleared, the products are shipped from the factory. If any nonconformity is identified, we request improvements to be made, followed by reexamination and reinspection.
1.5 months prior to product release

Pre-delivery inspection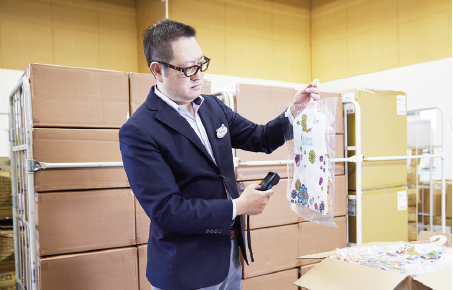 All necessary quality assurance documents are verified, including the product examination conformity document and the pre-shipment inspection conformity document. In addition, product representation details are checked, price tags are scan-checked, and conformity to the agreed final prototype specifications is confirmed. If no problems are identified, the products are delivered to us.
1 week prior to product relea

④Sales/Improvement (Involving Tokyo Disney Resort)
Our pursuit of happiness continues even after our merchandise is sold to our Guests. We gather frank opinions and ideas from within and outside our Group, and respond promptly if any problem arises. Moreover, such input is reflected in our product improvements.

Stores where everyone can enjoy shopping
The Brave Little Tailor Shoppe specializing in goods for babies and toddlers was opened in March 2018. Themed on the Disney movie, Brave Little Tailor, the store is designed with ample space, including around its doors, and is equipped with a large dressing room that can accommodate a baby stroller.

Store display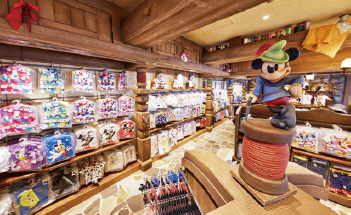 In collaboration with Cast Members at stores, we seek to design store displays that make it easy to notice, choose and purchase products.
1 day prior to product release

Product release

Feedback from Guests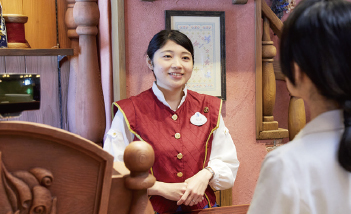 The Tokyo Disney Resort Information Center has been established to gather feedback from our Guests. Cast Members at stores also collect Guest feedback.

Improvements
We refer to ideas from Cast Members at stores and feedback from Guests to make consistent improvements to our products.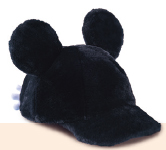 Example of improvement
Continue delivering even more happiness
Top
Creating products that make everyone feel truly happy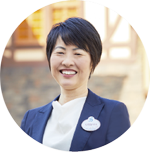 In producing our products, we are constantly mindful of how we can maximize our Guests' experiences and memories through them. The products we create are hopefully not just "objects," but representations of happiness and memories of their Theme Park experience for our Guests to take home. The slightest dissatisfaction in a product they purchase is enough to ruin an otherwise happy day spent at our Theme Parks. For this reason, we give utmost priority to ensuring the safety of our products and also pay meticulous attention to their quality in our day-to-day operation.

It takes the dedicated work of numerous people before a product offered at our Theme Parks reaches a Guest. Our goal is to maximize happiness through our products. Our products should therefore be developed in a way that not only makes our Guests happy, but also allows all parties involved—from those engaged in product planning and development, to those in charge of quality control and logistics, the Cast Members who sell them, and the suppliers that manufacture them—to feel good about having been involved with the product. Only when their aspirations come together can we produce the Tokyo Disney Resort's quintessential products that help create precious memories for each and every Guest who purchases them.

I know of a Guest who has long treasured a product that was purchased at Tokyo Disneyland 35 years ago, when the Guest visited as a baby. Also, there are times when, on a trip abroad, I catch sight of people who have our products with them. I am genuinely delighted to see the outcome of our aspirations being valued by our Guests. As part of our efforts to continue providing our Guests with maximum experience value, we will remain committed to creating products that make everyone feel truly happy.
Unifying our efforts to deliver excitement to Guests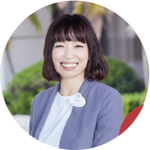 Our role as product developers is to closely examine the overall product plan while seeking a good balance among a range of elements including quality, specifications and cost. Product development cannot be achieved by one person working alone. It requires a group of people, including designers, quality control, store development and sales promotion staff, and suppliers, to share ideas and unify their best efforts. It is precisely this kind of teamwork that enables our Guests to take home safe and high-quality products along with their happy memories. Baby items especially require consideration to safety. We take a serious approach to each and every product, applying our solid teamwork in the hope that our Guests select our products with a sense of excitement.
Embodying the fun essence of our Theme Parks in design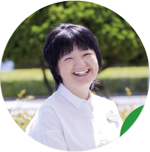 When we design our products, we envision them in the hands of our Guests, imagining how they will be used and what conversation will take place. Our character T shirt and parka, for example, were each designed by giving consideration to how the characters appear when they are worn at the same time. In addition, our products incorporate many intricate ideas intended to delight children, such as a one-point design on the sleeve or the toe of socks. Safety considerations are also essential, such as ensuring that materials coming into contact with the skin are especially soft to the touch. To allow our Guests to take home high quality merchandise from the Theme Parks as a memento, I work hard to constantly pursue even better products by harnessing my own experience as a parent and taking into account the latest trends, while having fun myself.
Thinking things through to protect babies' delicate skin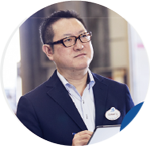 Developers and designers unleash their imagination to create products that embody the essence of our Theme Parks. While fully respecting their aspirations, we never compromise on safety as quality control staff. To make safe and appealing products, the wisdom of all parties involved, including employees in charge and suppliers, must be consolidated. Our Guests cannot check the content of chemical substances just by looking at the product. I try to bear in mind that the only way to offer peace of mind to our Guests is to undertake chemical investigations, prepare reasonable documents, and assure safety and quality.