Tokyo Disney Resort's
Sign language introduced at Turtle Talk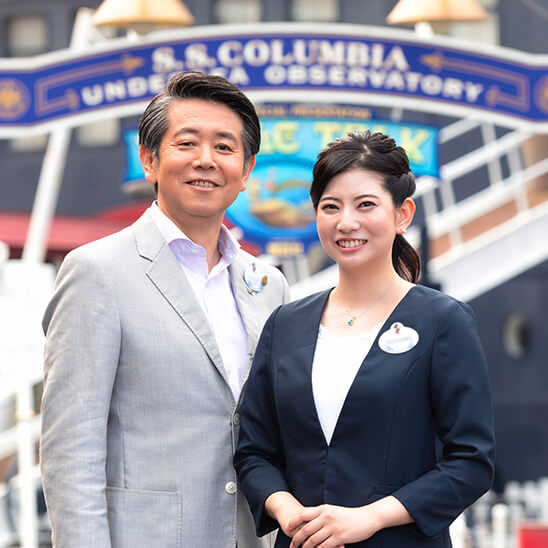 Providing a way for all Guests to experience the same enjoyment
Staff in charge CS Communication Group
CS Enhancement Department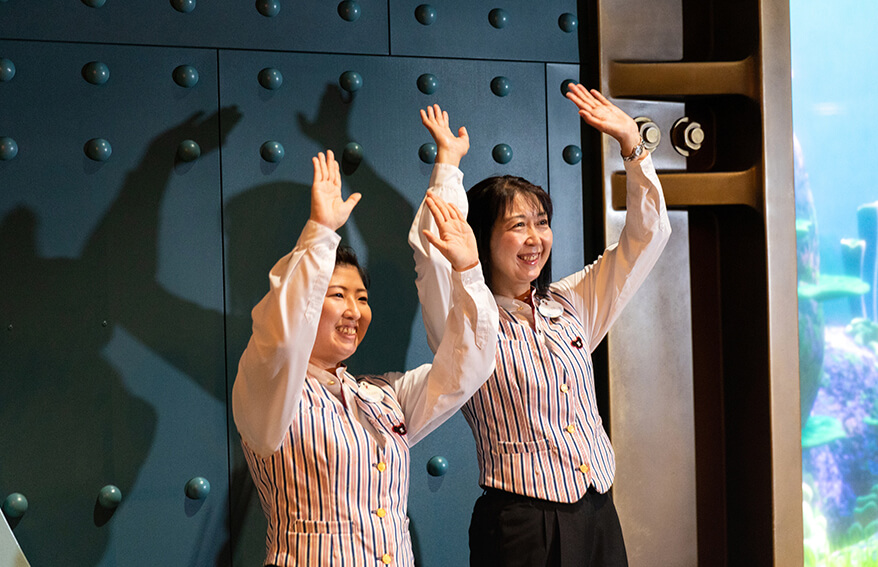 On April 2, 2019, we started offering a sign language service at the Turtle Talk attraction at Tokyo DisneySea for Guests with a hearing impairment. The service is provided twice a day on Tuesdays, Thursdays and Saturdays. Cast Members serve as simultaneous sign language interpreters so that Guests can converse with Crush, the sea turtle. We interviewed two barrier-free team members from the CS Communication Group of the CS Enhancement Department, who introduced the service.
Why was sign language introduced at Turtle Talk?

The CS Communication Group receives many letters and comments from Guests. When we were reading through them, we realized that Guests with a hearing impairment are sometimes unable to participate in Theme Park experiences, we wanted to create more opportunities for our guests with hearing impairments to participate in Turtle Talk. We have always wanted to do something about this.

Why did you choose to introduce sign language at Turtle Talk over other attractions?

In our efforts to improve our Theme Parks in terms of both structural and non-structural aspects, we must take into consideration Guests with all kinds of disabilities, and maintain a good balance. In addition to enhancing our facilities and support tools, it is also important for Cast Members to provide supplementary support and, furthermore, to share a dedicated commitment to delivering a fun time to all Guests. As a tool for Guests with a visual or hearing impairment, we offer the Disney Handy Guide, which provides them with park information in the form of audio and text/captions. However, this gadget is unable to offer captions for attractions where real-time interactive communication takes place, such as Turtle Talk. To complement our support service, we decided to introduce a sign language service for this attraction as a start. Rather than being satisfied with the status quo, we intend to remain widely attuned to the needs of Guests and will keep looking for any oversights in our approach.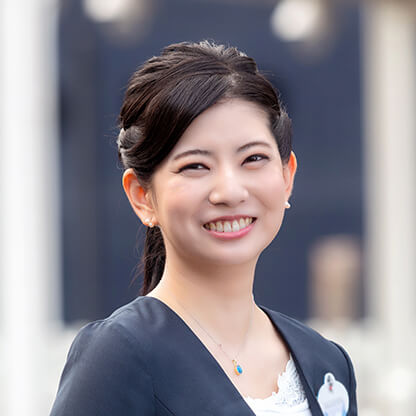 My goal is to offer a sign language service that gets across the overall concept of Disney.
Did you have any difficulties in aligning the sign language service with the show production?

We installed lighting equipment to spotlight the sign language interpreters to help the audience see the signs better, but meticulous adjustments in the position and angle of the equipment were required so as not to obstruct the view of the show. We not only wanted to translate the outline of the story, but also convey in sign language the wholehearted message from Crush: "Thanks, you so totally rock!" We discussed with our sign language instructor and interpreters how we could get across the concept of Disney, and created the signs to be used. Yet, bearing in mind that sign language is not the main element of the show, we were careful not to distract Guests' attention and to avoid using excess action.

Who are the sign language interpreters?

Our Cast Members who can use sign language serve as sign language interpreters. They also work at the information center using sign language, or at other attractions and restaurants. Because they can put their skills to use in a different way, they say they feel highly motivated and enjoy performing the job.

How is the feedback from Guests who experienced the service?

Other than direct comments and letters, our sign language Cast Members often receive feedback from Guests in person. For example, a male Guest with a hearing impairment told a Cast Member: "I have accompanied my children to watch the show several times, but today, it became clear why everyone was raising their hands. I was able to join in the fun for the first time." We also receive requests to increase the days and times of the service to allow more Guests to experience it.
I hope our Guests will feel more familiar with the idea of barrier-free access through their experience at our Theme Parks.
How is the feedback from Guests in general?

Ever since we introduced the service, there have been many small children who have shown an interest in sign language. Some of them ask our sign language interpreters questions such as, "How do you say 'happy birthday' in sign language?" There are others who learn the signs for Crush's favorite line, "You so totally rock!" We hope that Guests will become more familiar with the idea of barrier-free access as they witness how our special-needs services to eliminate barriers are provided at our Theme Parks.
TOP